The festival season is upon us and it's time to start planning for this special occasion that brings families together. From time immemorial, the celebration of festivals all around the World has included exchanging gifts and sweets with family and friends. This venerable festive tradition is the perfect way to show your admiration and appreciation towards your loved ones! Be it an invaluable family heirloom passed down from elders to the apples of their eyes, or just a simple hand – made greeting card given by kids to their parents, grand – parents and loved ones; the gracious gesture of giving gifts speaks volumes and strengthens relationships.

"It's the thought that counts" in the World of Gifting, and no matter the size of the gift, seeing the anticipation and excitement on your loved ones' faces when they receive your gift is an incredibly rewarding experience. It is a moment of pure delight and instant gratification for the giver. However, the most formidable task is choosing the perfect gift as the kind of gift that you give isalso a reflection of your own personality, making it all the more critical to choose just the right gift for the right person! You could however, elevate this festive season to a new level of splendour by bestowing your cherished ones with Studio Trataka's range of innovative occasion Gift Hampers that will surely mesmerize anyone that they are offered to.
The Inception of Gift – Hampers
Emanating from the French word "hanapier", meaning "a case for goblets", hampers were traditionally given as charity for people in need by wealthy families. Giving them as gifts by well – to – do families to their staff during Christmas began in the Victorian period. Over time, the use of the gift hamper / basket has evolved significantly and is quite in vogue these days. Keeping up with the latest trends, Studio Trataka is marking this festive season by showcasing an outstanding selection of Gift Hampers under 5000. These exquisite works of art are sure to add a touch of elegance to your festivities while resonating with the unique tastes and preferences of your loved ones!
Festive Vibes with Exclusive Range of Gift Hampers
From Easter Hampers to Corporate Gifting, from Baby Showers to Festive Gift Hampers for Employees, you name it and we have it! So, why are these gifting ideas so popular? One Word – Exclusivity! While you might be overwhelmed with the plethora of gift hampers to choose from out there, we provide you with exquisite hampers that are unique due to various reasons.
Intricately Hand – Crafted Works of Art
The main reason why our premium festival gift hampers are so much sought after is that every single article included in these hampers is carefully hand – crafted and created with love and devotion by extremely hard – working Indian artisans. This makes these gift hampers truly resonate with the spirit of festivals like Diwali, Navratri, Christmas, New Year and numerous others, making them the perfect gifting solution. The time and effort that is put into creating these gift hampers will definitely speak volumes for your thoughtfulness and consideration towards your loved ones. Be it the Ginkgo Leaf Platter, with thousands of intricate lines chiselled onto it by hand; or the Elle Décor nominated Marble Facet Bowl that takes as long as one week to be hand – crafted; every single piece in these gift hampers will lovingly convey a message that you care deeply about their passions and desires. Take your pick from our range of luxury festive gift hampers specifically pieced together for a variety of events.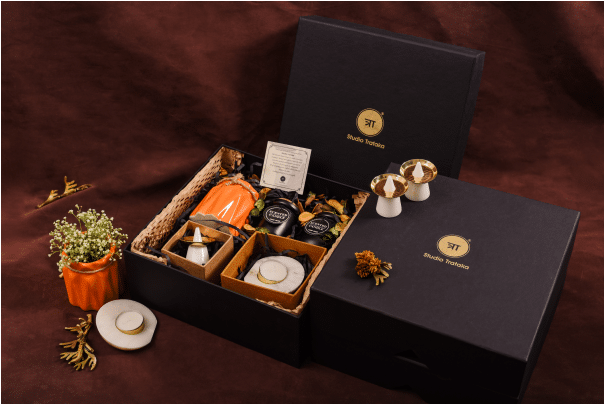 Our Fragrance Gift Hamper is designed keeping in mind your loved ones who are passionate about worship rituals, making it the perfect Diwali Gift. Express your love for your significant other under romantic candle light with The captivating Handmade with Love Hamper. The Housewarming and Festive Hamper is a unique gift for your loved ones, warming their new homes with a cheery ambiance that even their guests will relish. The Indie Gifting Box is definitely a safe bet to bring your budding friendships to the next level! Deepen your roots of commitment by showing your fondness for your better half with The Someone Special Gifting Hamper. The premium Timeless Passion Hamper is the perfect gift for those divine couples who have swiftly achieved 50 years of togetherness! Finally, The Zen Work Hamper; There is no better way to appreciate the hard – work of your employees than gifting them a heartfelt token of appreciation. Create your legacy with this perfect Corporate Gift this festive season.
Element of Surprise with a Long – Lasting Impression
Every single article within these gift hampers brings a brand new wave of joy and happiness, making a long – lasting impression. Envisage your loved ones affectionately reminiscing about your diligent gift – giving every time they sit for Pooja and use the one – of – a – kind lotus leaf incense stick holders or utilize the unique metallic markings as their bookmarks!
Everything in these distinctive hampers is carefully packaged and beautifully displayed with high attention to detail so as to take your breath away as soon as the box is opened. They even come in a classy, attractive, highly durable, and environment friendly packaging that adds to their overall appeal while eliminating the need for any gift wrap. After all, at Studio Trataka, our moral obligation extends even beyond the happiness of our customers; we hold our environment and Mother Earth in equally high regard.
Strengthen the Bond !
Giving and receiving gifts on special occasions is an innate human behaviour. It not only has a considerable amount of heart warming impact on the receiver, but also a significant amount of psychological impact on the giver by contributing to their self – esteem. This mutual gift exchange strengthens social connections and fosters a feeling of kinship within relationships. Make your mark on the hearts of your loved ones with our hand – crafted Gift Hampers this festive season.